20.9.2011
Medal for Merit for the Macedonian National Basketball Team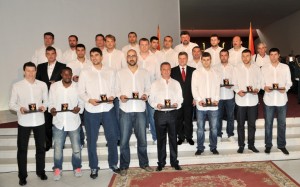 President of the Republic of Macedonia, Prof. dr. Gjorge Ivanov today decorated the Macedonian basketball players who won fourth place at the European Basketball Championship in Lithuania.
High recognition is given for promoting of the Republic of Macedonia in the world with great results achieved in basketball internationally for outstanding contribution to the development and popularization of this sport in our country.
"Macedonia received the most desirable sports gift for the 20th anniversary of its independence. The success you have achieved is contagious and I'm sure will continue in all fields and in sports and culture and economy. Vlado Ilievski asked: "people, what we have done? I will tell you what you did – you celebrate Macedonia in Europe! You put Macedonian on European basketball basketball map " Ivanov stressed a the awarding of medals.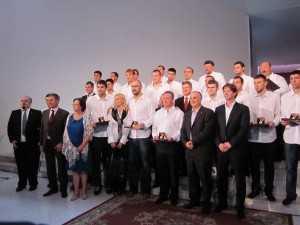 Medal of Merit received Pero Antic, Vlado Ilievski, Leicester Mekejleb Bo, Ilia Dimcevski, Dimitar Mirakovski, Todor Gechevski Darko Sokolov, Vojdan Pavlov, Damjan Stojanovski, Marko Simonovski, Georgi Chekovski, Predrag Samardziski, coach Marin Dokuzovsi and all members of the expert team.
Decorations of the National team were handed in the Macedonian Opera and Ballet.