16.7.2010
From History: Heraldic Visitation in Macedonia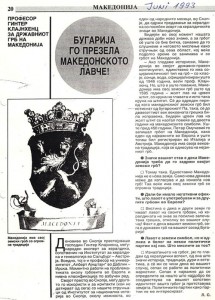 Nova Makedonija, June 1993
These days  Klajnedzh  Guenther, an international expert on heraldry, owner of The Institute of Heraldry and Genealogy in Salzburg – Austria visited Skopje. Also, he is a professor at the University of Albert Einstein in Dublin – Ireland. Currently he is working on issues on the arms in Europe and their classification in alphabetical order.
His stay in Skopje, he used to contact (not for first time) with our experts from the Institute of National History in Skopje, looking for the possibility to held lecture on heraldry,  in the following months in Skopje, with particular reference of the heraldic symbols in Macedonia.
Because at this moment our country got a new flag, and the Coat of Arms is still bobbing battle, we wanted to hear his opinion as an expert in this area, which already some time has been involved with the CoA of Macedonia.
– If you look historically, Macedonia in its state-legal continuity, has  only one CoA. the  socialist arms- with class, sun, water, officialised since 1946, says prof. Klajnhenc. But, more importantly, Macedonia has its own Arms since 1595 – a golden lion on a red shield with a crown on his head and also the crown of the shield. Up until a certain moment when Macedonia's arms was replaced with the Arms of Bulgaria! Well, so, until the twentieth century, the century-old mistake was corrected, because the red lion yellow shield was located more than two hundred years of Macedonian symbols. Even 450 years ago, Peter Omuchevik ascribed the Arms to Macedonia, as one of the most important in Europe and even then was registered in Italy and Austria. Macedonia has a venerable tradition, referring to her CoA.
So your view is that Macedonia should keep their land Arms?
Right. Simply Macedonia is not a new country. Only the new state can pass and finds a new CoA! She already has a Arms with tremendous tradition.
Would have negative effects, the lion is used for the other Arms in Europe?
– It's true that other countries have the lion on their arms, but heraldry knows no mistake sealed stronger, than in your case! The fact is that your Arms, now a state CoA to your neighbor Bulgaria!
Lion's earthly symbol, but also feature and a hallmark of some political parties here. What do you think about it?
– Finding the CoA, I see the heraldic point of view of what it means history, tradition, even aesthetics, and it seems to me that in your case, it is a political marketing. However, it is important to decide on something that will best correspond to your own identity back why represent the country. Political parties do not interest me.