8.4.2014
Radovish with new Coat of Arms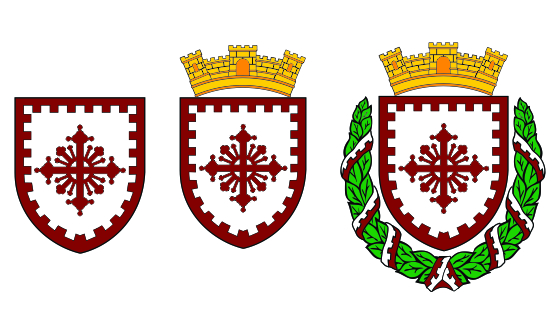 Municipality of Radovish, after a public contest, got it`s heraldic Coat of Arms. Arms has three heraldic representations: small, medium and large arms.
Blazon:
Argent a Radovish cross Gules, bordure embattled of the second.
Middle Arms is a composition of the small Arms, with mural crown Or of two rectangular towers and a central tower.
Full armorial achievement contains tobacco wreath Vert wrapped with decorative ribbon.
The symbols used in the blazon are:
Radovish Cross is taken from the external altar facade of St. Elijah church in Radovish. The cross is symmetrical representation without the base. The embattled bordure symbolizes the urban character of municipality of Radovish .
Tobacco wreath represents the most important crop growning by which the municipality is famous for.
Authors: Ivan Nacevski, Stojanche Velichkovski and Aleksandar Gizharovski.