31.7.2018
Ilinden flag with socialist motifs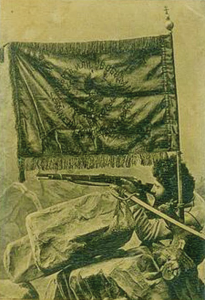 On August 2, 1903, Ilinden Uprising broke out. All participating brigands's units had their own flags that were different in content. Most often, they bore religious slogans, a lion or a girl as a symbol of Macedonia.
Two flags diverse from the most widely used typology mentioned above. One is the Kumanovo flag with the rebel behind which the sun rises, and the flag of the Krushevo company. On a red background, two hands that are greeted, behind which there is a torch were is embroidered with golden yellow thread.  There are two branches crossed beneath them.
The socialist ideas that were modern at that time, would later be exploited as primary in socialist historiography.