21.7.2018
Macedonian Heraldic Society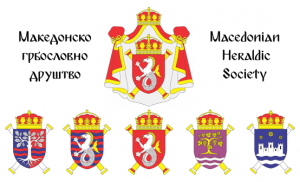 In the last two decades, the interest in the heraldry and vexilology in Macedonia is particularly rise. This, of course, is a result of the development of communication in all cultural and social spheres, as well as the unhindered possibility to explore different archival and bibliographic material from top world institutions. Thus, the newly emerging situation and the increased volume of new knowledge from these two areas made a need of a higher quality approach and seriousness in the overall processing of these.
Having in mind all this, the Macedonian Heraldic Society was established with the following goals: popularization of the heraldry and related sciences and disciplines; research of heraldic heritage and those from related sciences and disciplines related to Macedonia, on the territory of the Republic of Macedonia and abroad; designing coats of arms, flags, decorations and other objects of interest and expertise of the Society; maintaining a heraldic register that records heraldic achievements; education in the field of heraldry and related sciences and disciplines; publishing activity for works of heraldry and related sciences and disciplines.
In order to realize these goals, the Macedonian Heraldic Society plans to carry out a series of events of all kinds with which it hopes to affirm the Macedonian heraldry and vexillology, and thus to popularize the same as creating awareness of their exceptional significance for our being, society and culture.