2.6.2017
Celebration of 10 June – International Heraldry Day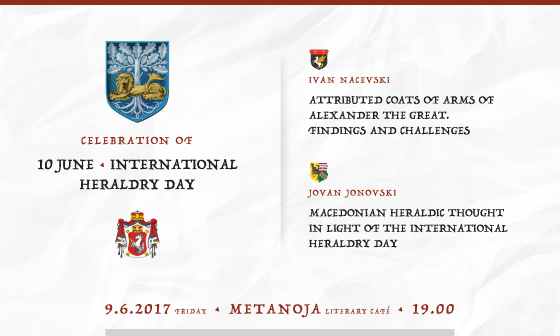 Macedonian Heraldry Society, on the occasion of 10 June – International Heraldry Day will organize the following lectures:
Ivan Nacevski
ATTRIBUTED COATS OF ARMS OF ALEXANDER THE GREAT. FINDINGS AND CHALLENGES
Jovan Jonovski
MACEDONIAN HERALDIC THOUGHT IN LIGHT OF THE INTERNATIONAL HERALDRY DAY
The lectures will be held on 9 June 2017 at "Metanoja Literary Café" (Maksim Gorki 19) at 19.00.
As part of the program to mark the International Heraldry Day it is planned to visit the monument of Hristofor Zhefarovich.