1.9.2014
Ohrid got a heraldic Coat of Arms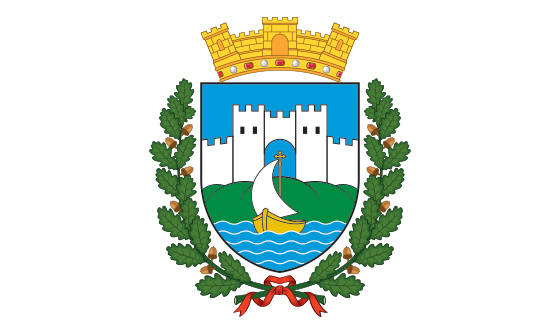 At the 27th session of the Council of the Municipality of Ohrid, held on 22.08.2014, Ohrid finally got heraldic coat of arms, made by a member of the Macedonian Heraldry Society, Kosta Stamatovski.
Symbolism
The symbols used for the blazon and emblazon of the coat of arms are based on previously existing emblem of the municipality. It is primarily due to the historical significance of the emblem as one of the oldest municipal coats of arms in Macedonia. It dates from the 1950s, and is registered in the register of local emblems in the United Nations as an official municipal emblem in 1967, which is quite rare for a Macedonian municipal coat of arms.
The fortress represents the Samuil Fortress, which is an easy recognizable part of Ohrid and the Macedonian cultural heritage. It can not be connected to any other city. Additionally, it highlights the essence of the Medieval Macedonian state.
The Ohrid Lake is unique and worldwide known. Its age and richness with endemic species make it an inevitable symbol of Ohrid.
The sailboat symbolises tourism, which is the main economic branch of the municipality. But it also symbolizes a crossroad of great importance. It highlights the position of the city on Via Egnatia. Of course, no less important is its symbolism as a means of disseminating education and religion, two basic things that elevate Ohrid high above other cities.
As a historic Macedonian capital, according to the Municipal Heraldic System the crown of Ohrid is decorated with pearls and rubies and the wreath is oak.
The crown should serve as a symbol that highlights and celebrates Tsar Samuil and further engraves Ohrid in our consciousness as the cornerstone of the Macedonian soul. Ruby is the most valuable and national stone of Macedonia. The Ohrid pearl is typical and worldwide known symbol for Ohrid.
The oak is unambiguous and unmistakable Macedonian symbol. An entire species of the genus Oak is named Quercus macedonica (Macedonian oak). It should be noted that the ancient rulers decorated themselves with garlands made ​​of golden oak leaves, despite Greek examples of olive, palm or bay garlands. This is irrefutably witnessed in the findings in the tomb of Philip II. The fact that Ohrid is one of the several Macedonian cities that constantly live from its foundation and until this day, and is also the town where ancient artifacts are abundant, only supports the above standpoint. The capital of the Macedonian spirit deserves clean and irrefutable Macedonian symbol as the oak.