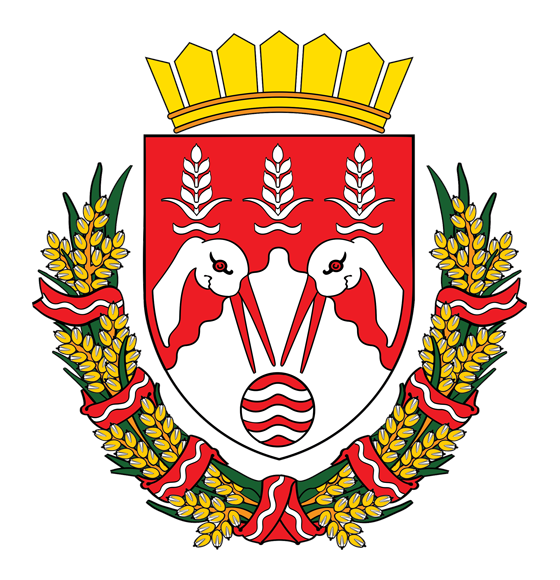 Municipality of Cheshinovo-Obleshevo
Arms of urban municipality
Registered under number 4/2015 on 10.10.2015
Blazon
Shield
Per chevron vawy Gules and Argent, two storks heads issuing from flanks, counterchanged, in the chief three rice ears of the second, a heraldic fountain of the first in the base
Crown
Camp crown Or
Wreath
Rice stalks Or interweaved with ribbon Gules with bar Azure
Blazon
Stojanche Velichkovski
Emblazon
Stojanche Velichkovski
Symbolism
As a recognizable feature of the Municipality of Cheshinovo-Obleshevo we can
find the stork, which is not only accepted and promulgated as an affirmative symbol, but visually is a part of the ambient. On the territory of the municipality we can find the largest stork nest in the country which is over 65 years old.
The three rice ears in the field of the arms represent the rich Kochani field. Both storks represent the largest settlements – Cheshinovo and Obleshevo. The spring symbolizes the abundance of the municipality with thermal springs.
The white color, except being the dominant color of the storks, it also symbolizes the color of rice, while the red color symbolizes the warmth and hospitality of the inhabitants of the municipality.