18.9.2022
Anniversary of the Death of Hristofor Zhefarovic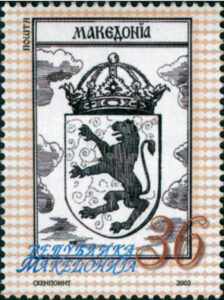 Today marks the anniversary of the death of Hristofor Žefarović, who died on September 18, 1753 in Moscow. Žefarović is the first who "brought" heraldry to Macedonia and in the region. That is why he is considered the patron of heraldry among some of the South Slavic peoples. He was a Macedonian revivalist, painter, icon painter, coppersmith, born in Dojran. He was educated in Thessaloniki, and then he went to Karlovy Vary. His engraving and publishing work, which represents the first Serbian printing house in Vojvodina, brought him the greatest fame among all South Slavs.
In 1741 he published the Slavic translation of Pavle Ritter Vitezović's Stematography, originaly published in 1701. in Latin. The book was published on 21.10.1741 in Vienna, on the day when Arsenie was confirmed as patriarch and to whom the stemography is dedicated.
Žefarović adds to the book 8 engravings with saints and 8 engravings with Serbian rulers, as well as a portrait of Patriarch Arsenie. The coats of arms are represented by heraldic hatching to indicate the colors. The Viennese master Mesmer also worked on stematography, who cut the drawings of Žefarović in copper. The drawings of 56 national coats of arms, including the coat of arms of Macedonia with a red lion on a golden field.
Unlike Vitezović's Stematography, which was written in Latin, Žefarović's, written in Slavic language, was accessible to everyone, regardless of whether they were literate or not, because it was an album with coats of arms, rulers and saints. Stematography was so popular that it was even banned.
Apart from the translation of Stematography, which will become the first illustrated manual of heraldry, no other heraldic texts of Žefarović are known.